Yerba Maté Chai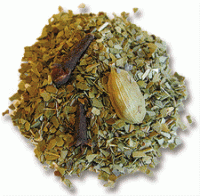 Yerba Maté is an evergreen plant of the holly family Ilex Paraguariensis. It was discovered by the Guarani Indians, who believed it could cleanse and heal the spirit. Today millions enjoy it in South America and its popularity is growing in the US. With the current popularity of Chai, many variations have evolved including Chai for lovers of Maté who also enjoy the spice blend of cloves, cinnamon, and cardamom. This 100% organic blend can be brewed on it's own or with added sweetener and milk product.
The flavor is full-bodied, herbaceous, and spicy with a cool, refreshing taste.
BREWING INSTRUCTIONS:
Every tea is different and can be brewed in different ways and you should experiment with the brewing of your tea to discover its unique character. Here's a great way to start: Boil the tea and spices in water (around a teaspoon per 8 ounces) for 3 minutes. Add the milk of your choice in a ratio of about 1/4 milk to 3/4 water, stir and simmer for another 2 minutes. Strain the brew to remove tea leaves and add the sweetener of your choice.