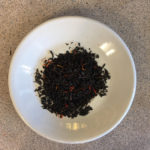 If you've been over to our website recently, you'll have noticed a "Tea of the Week" series of informative articles that Katie has been writing. Since June is National Iced Tea Month, I thought you might be interested in one of the best teas to try over ice. Here's her article:
Snow Monkey Plum is a delicious black tea that makes a beautiful brew. While some people have remarked that this tea has a taste similar to bubblegum, the tea is predominantly plum flavored with no tastes of monkey (or snow).
This tasty smooth-bodied black tea makes a delicious iced beverage which is perfect for the hotter weather ahead. If you would like to try Snow Monkey Plum, you can come on down to Incahoots and we would be happy to brew you a pot for just $2.50, or you can buy it in bulk for $14 per pound!